Build a Better Brand with Head-Turning Signs, Banners, and More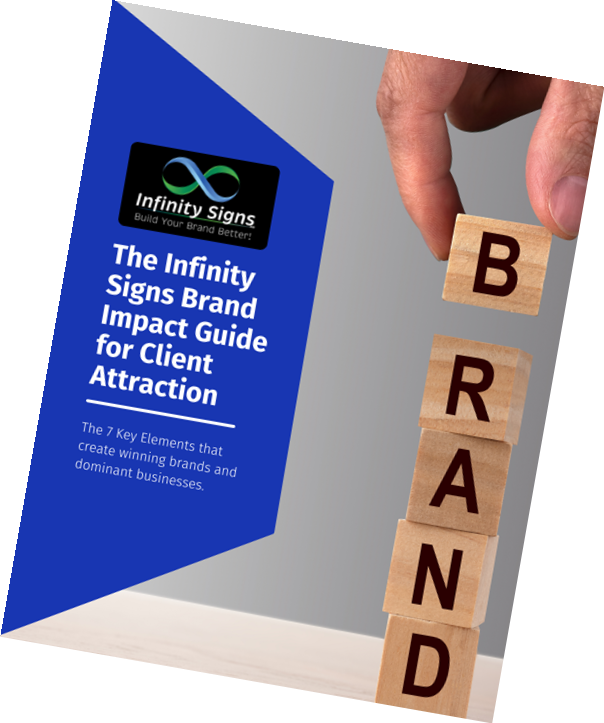 Get The Infinity Sign Brand Impact Guide for Client Attraction
Attract and keep more loyal customers and crush your competition!
At Infinity Signs, it is our goal to ensure that your brand message is cohesive and impactful. We provide comprehensive services that cater to businesses of all sizes, from building and commercial real estate signs to tradeshow and event signage, and everything in between. Our team of experienced designers and marketing professionals collaborate closely with our clients to create logos, wall and window designs, vehicle graphics, and wayfinding and directional signs that accurately represent their brand and successfully engage their target audience. We are dedicated to delivering the utmost quality, and our meticulous attention to detail and passion for excellence set us apart from the competition. With our support, your business can stand out above the crowd and make a lasting impression.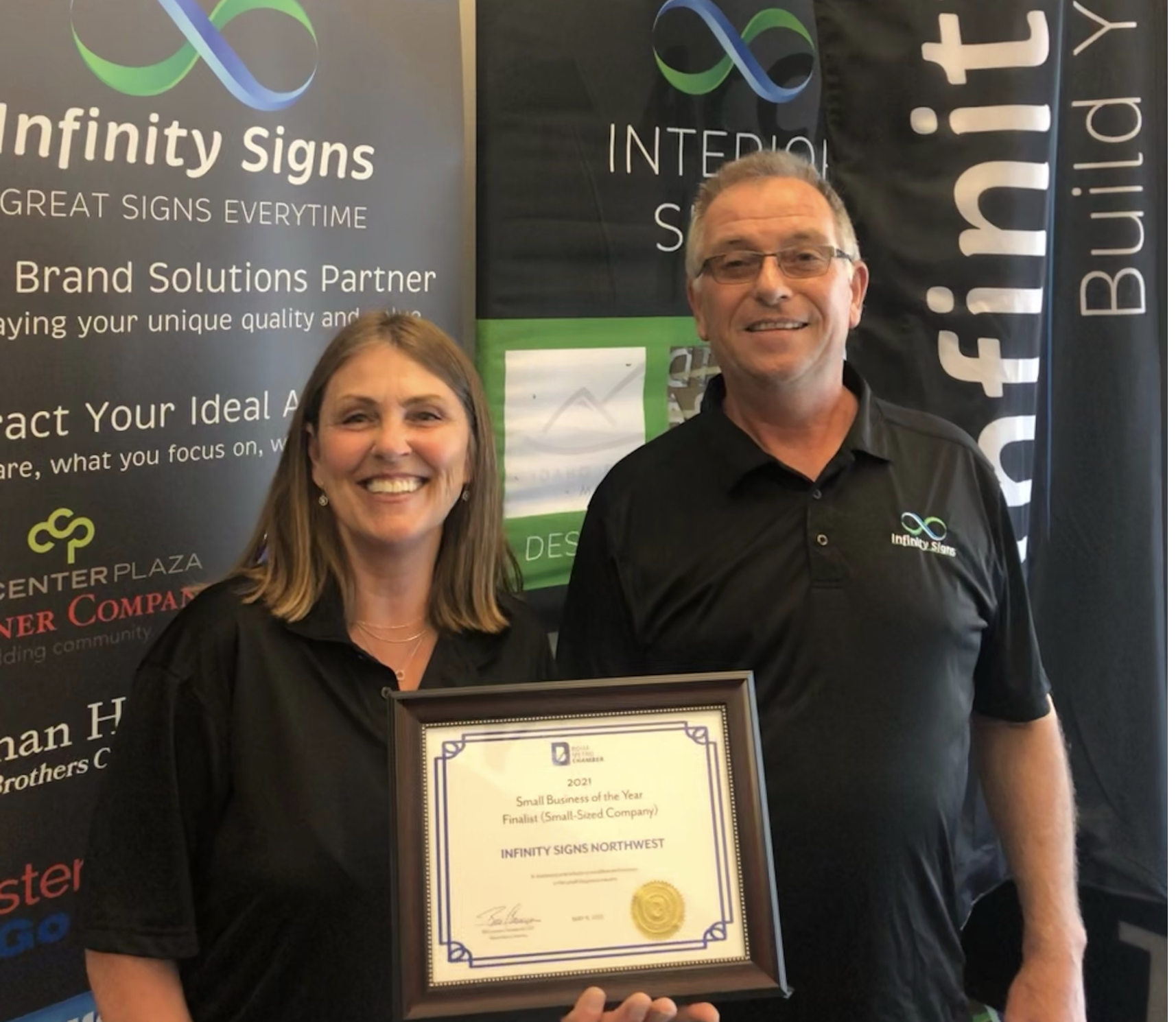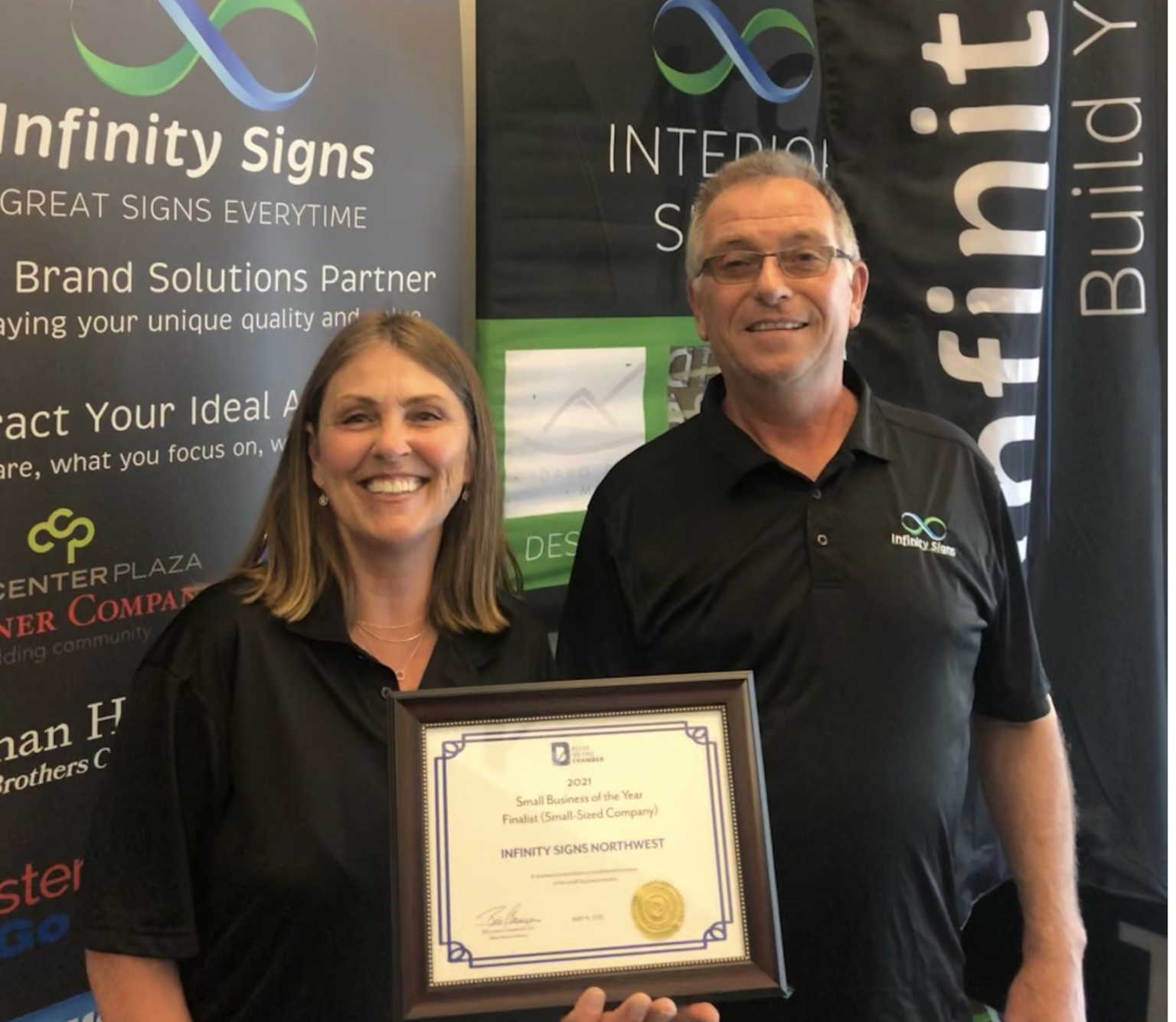 Are You Tired of Feeling Invisible?
Navigating the ever-changing marketplace can be both daunting and overwhelming. With so many businesses vying for the same customer base, it can be a challenge to make your products or services stand out from the rest. Even if your business offers exceptional deals, promotions, or services, it's still not a guarantee that you'll grab the attention of the target audience you're hoping to reach. Without a standout strategy, it's very possible that customers might overlook you in favor of your competitors. It's crucial to appreciate the fact that the market is always in flux, making it more challenging to stay ahead of the curve. So, how do we meet the need to find new and innovative ways to get noticed by potential customers?
The Solution: Build Your Brand BETTER!
"Outstanding customer service and high quality. I have used Infinity Signs for club stickers, boat stickers, and sports banners. Design work and review process makes sure customer has the final say. They go above and beyond expectations to do what they can to meet your requirements. Staff are talented, friendly and professional. I highly recommend that you contact them for your next project."
"I have worked with the team at Infinity Signs many times over the years and they have always been helpful, creative, prompt, resourceful, and a pleasure to do business with. I regularly recommend them to my clients and associates!"
"We have used their services on many occasions for both business and personal needs. We LOVE these guys!! Always such a pleasure to work with people that are professional, fun and friendly. Would highly recommend them for any of your signs, wraps, marketing or promotional materials. Andy and Helen are amazing!"
"Andy & Steve are great. Super helpful and good at helping me make decisions. They sent out someone to install and do some electrical to our lighted sign and he was very helpful too. Went beyond what he needed too. When I picked up another order, I met the computer guys too. All in all. it was a very good decision to use Infinity Signs!!"
"Andy and his team have done fantastic work for us on several occasions. They worked with us on a van wrap for our church van so it really stands out now. They also did great work on some t-shirts we needed for an event. Easy to work with and very professional. Thanks Andy and Kyle!"
How it Works: The Infinity Signs "Better-Brand Process"
Your customers know how hard you are trying. They see it in a flash. Are you proud enough of your company to make your image fresh, bright, and attractive? Do you anticipate your customer's questions and make it easy for them to buy? Do you give them enough reasons to remember you?
Simply "doing a good job" is not enough anymore. Choose to go the extra mile! Strive to be NOTICED, to be MEMORABLE, and to be INCOMPARABLE.
And Here's Where You Can Find Us...