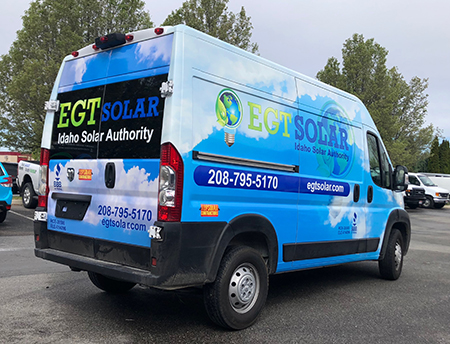 VEHICLE WRAPS DURING COVID-19
You've heard about vehicle wraps in the past, but the current corona virus situation has created some unique opportunities in this space. While ride sharing companies like Uber and Lyft have taken a serious hit, that leaves many drivers struggling to make money, this could present a chance to change gears, and make some money while still driving. If you are in the ride-share business, consider partnering with a local company to promote their business through the wrapping of your vehicle. On the other hand, as a business owner reach out to these drivers and find one willing to have their vehicle wrapped to help market your company. This could be a huge win for both sides as vehicle wraps have one of the lowest costs per contact in the marketing world.
A professionally printed and installed vehicle wrap looks amazing, stands out from the crowd, and lasts for years – all while being incredibly affordable. People are spending more time than ever in their cars – waiting for groceries to be loaded, picking up meals, day trips rather than flights, etc. So why not take advantage of this captive audience?
Infinity Signs, NW can print on virtually any kind of vehicle – car, van, truck, boat, jet ski, SUV and more. We use only the highest quality products, which means your investment in both your wrap and your vehicle will stay protected. It's the height of summer and you want to be sure you get a product that can stand up to the intensity of the sun's rays right now so be sure to use a reputable company for your wrap.
Any company can take advantage of a vehicle wrap. Just like your businesses interior and exterior signage, your wrap can be completely customized to match the look and feel of your company. It can be an incredibly modern, classy look or a more casual, fun look. We can incorporate your logo or graphics into a fantastic design, while of course making certain it fits the type of vehicle that you're working with.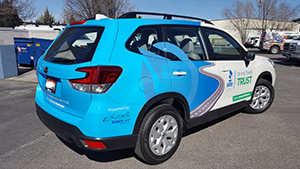 While your vehicle wrap can certainly last for years, it doesn't have to. Which for ride share people is a big win. Work for 6 months driving a wrapped vehicle for a local company, and then easily have the wrap removed to return to your other forms of driving. This shorter term commitment can be perfect for businesses looking to market seasonal items or small businesses that just want to dip their toe in the world of vehicle wraps for a bit. Infinity Signs, NW will be there from the design phase all the way to the eventual removal. There is simply no better way to reach a wide range of buyers at a minimal cost of marketing.
RESTAURANT FACELIFT
As the world begins to slowly reopen no one is more anxious than bars and restaurants to get back to business. Many of you have been hit incredibly hard and desperately need to get customers back inside. A visual facelift for your business may be just what you need to help restart the flow of traffic. Here are a few areas we recommend you focus on:
Window Graphics
If you've never taken advantage of your windows for marketing, now is definitely the time. Adding some professionally printed window graphics to a previously bare area is sure to catch people's attention. Infinity Signs, NW has the ability to print any design, logo or image that you come up with and install a stunning window graphic. We can also help you maintain a comfortable climate by using perforated window graphics that serve to market for your business, while blocking heat and bright light. These custom graphics still allow plenty of natural light but help keep your air conditioner from working overtime.
Menu Board Signs
As many restaurants have gone to URL codes or inexpensive disposable menus rather than the more professionally printed, colorful menus of the past, it can be increasingly difficult to encourage customers towards specific dishes. Menu boards are a great choice. A well-maintained menu board can help you increase your average order price by providing an opportunity for you to persuade your customers to purchase high-margin dishes. Menu boards can be placed both inside and outside the restaurant and are easy to keep clean and sanitized.
3 Dimensional Signs
One fun way to increase sales is to add a 3 dimensional sign to either your interior or exterior signage. For example, if you're a Mexican restaurant consider adding a margarita, sombrero, or taco shaped sign. The design team at Infinity Signs, NW can help you determine which material to use, what size is appropriate and how to take advantage of high impact LED lights. We can also use layered graphics to further enhance your dimensional sign. Let us work with you to find something unique to your restaurant that we can highlight for the whole world.
Social Distancing Signs
While this type of signage is not necessarily fun or flashy, it is vital to making customers feel safe coming back to your restaurant. The most common option for restaurants is to utilize vinyl signs on the ground that mark the 6' distance that customers should stay separated while waiting to get in or picking up food for carry out. If you've not yet gotten these signs in place, we can help you take care of it right away.
There may not be anything you can do about a global pandemic, but there are definitely some steps you can take to reintroduce your restaurant or bar to the community and begin to bring customers back inside. Let us work with you to find the best solutions for your specific situation.
BOISE DAY TRIPS
Everyone is starting to go a little bonkers being stuck at home, but you don't have to spend your whole summer holed up in your house. We have found several day trip options that can get you out, without putting you at risk. Here are 4 of our favorite options.
Bruneau Sand Dunes – this easy drive is just over an hour from Boise and is the tallest freestanding sand dune in North America.
Everyone is starting to go a little bonkers being stuck at home, but you don't have to spend your whole summer holed up in your house. We have found several day trip options that can get you out, without putting you at risk. Here are 4 of our favorite options.
Bruneau Sand Dunes – this easy drive is just over an hour from Boise and is the tallest freestanding sand dune in North America. Challenge yourself to climb all 470 ft. to get to the top. Bring a plastic sled to ride down for a truly unique experience. The park also features a 5-mile self-guided nature trail that explains the geology of the area and how the sand dune was created. Given the vast size of the dune it's no problem to keep a safe distance between yourself and other visitors.
Craters of the Moon – while this is a bit further of a drive (3 hours roughly) it's still easily done in a long day. The Craters of the Moon lava field covers 618 square miles and will be the closest thing to the moon that most of us ever experience. It truly looks and feels like the face of the moon. The National Park Service describes the area as, "a vast ocean of lava flows with scattered islands of cinder condes and sagebrush". Pack a lunch and enjoy a beautiful day exploring something found only in Idaho.
Silver City – given that the entire population of the town is now less than 2,500 (with very few in the actual downtown area) this can be a great place to learn about the history of the area, without running into too many locals. Silver City is a ghost town about 2 hours from Boise. During its hay day this little town turned out a decent amount of gold and silver, but now it's a purely historical location. It can be a great way to learn about life during the 1800's mining boom. Be sure to check out the local cemeteries for some very interesting headstones. This location is only accessible during warm weather months so don't wait too long.
Hells Canyon – this one is the farthest drive at 4 hours from downtown Boise, but it's incredible views make it hard to resist. Hells Canyon is the deepest river gorge in North America, surpassing even the more famous Grand Canyon, there are plants and animals here that will take your breath away. This huge park reaches into 3 states: Idaho, Oregon and Washington again helping with the necessary social distancing right now. While guided tours are likely limited in the current situation, there is a tremendous amount here that you can explore all on your own.