BACK IN BUSINESS, RE-OPENING SIGNAGE
We are finally starting to see businesses opening and wish all the businesses the best of luck in getting sales back on track. As our community comes back to life, we have been helping our customers with new 'NOW OPEN' signs along with other types of signage relating to the new realities of business. At Infinity Signs NW we service all types of businesses and meet their unique signage needs whether they want to attract more foot traffic or vehicle traffic. Location and sign placement are also important factors for the best ROI for a 'NOW OPEN' sign. We can help you position your signs to inform your customers and prospects that you are back open and ready to serve their needs.
Maybe you have a new business service or product message to launch. The staff at Infinity Signs NW is available to help get your message out with interior or exterior business signs.
Please call us for a free on-site consultation for your business. We will come to your business, listen to your plans and goals, and help you determine the best type of sign content and materials to fit your specific business need and location. With our creative design services and many unique sign products you are sure to find an excellent sign solution at cost effective price point. Our quick on-site consultation will help you settle on the best new signage as you get back open for business. Call us today to schedule your free consultation, 208-473-2913. Creating a new design for a simple 'NOW OPEN' sign might just be the thing to get your business noticed and help kick start that business growth.
NEW BUSINESS SIGNAGE
If you decided that 2020 was your year and you were going to pursue your dreams with the opening of your new small business – congratulations! No doubt recent developments with COVID-19 have impacted your plans or delayed your opening for a bit. Certainly this has been incredibly frustrating for many who were in the process of getting a new business off the ground. At some point this will pass, hopefully sooner rather than later, and you'll want to be ready.
When the curtain finally lifts, many businesses will be frantically trying to reopen and will need many of the same products that you're looking for. The time to get prepared is right now. You've likely got an incredible idea or product and all kinds of ideas about who can benefit from it, but have you thought through your business signage. Think about more than just the big unveiling of your company name on the front of the building, you want to have a complete signage plan in place to back up that big moment. Given the recent pandemic you'll want to also think about signage for social distancing that will be required when you open as well.
Your Signage Really is a Major Decision
This is not the area of the budget to skimp on. You can go single ply with your toilet paper – but not the signage. This is one of your first decisions on who you'll partner with when creating your company. You want to choose someone like Infinity Signs NW who will take the time to see the whole vision you have for your company, create marketing designs that integrate your messaging in multiple sign platforms, and will stay until the installation is complete. A local business signage expert is also invested not only in the success of your new business but in the success of the community. Choose a sign company that will be there when you cut the ribbon and have that big unveiling ceremony and for the long haul.
Signage is a Long-term Investment
As you would expect, quality signage is going to cost some money, but if done correctly it's a one-time investment that lasts decades. It's worth the price tag if you get a high quality product that still looks amazing in 2040. Compared to other marketing mediums there's nothing that's as cost effective when you look at the price per impression. You're hitting customers' at the most opportune time – when they're passing your business. There aren't many other marketing options that can lead to direct sales quite like exterior business signage.
This is Your Big Moment
You'll never again get to have a "first grand opening" so make sure you do it right. It's always amazing when a new business opens with minimal, or zero, signage in place yet. There's no way to get that first impression back again. If you want to be seen as a serious business, than you have to look like one. This is one of the few times you'll have where people are curious about what and who you are, make sure the impression you give is both positive and lasting by installing quality signage.
KEEPING YOUR NEW SIGN IN COMPLIANCE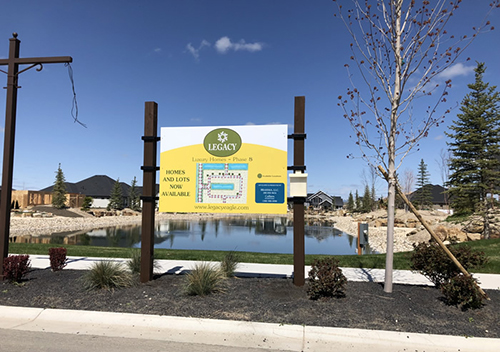 When you look at adding new indoor or outdoor signage your primary focus is likely to be on the visual appeal, the marketing message, and the company branding aspects but what many customers overlook is the local government requirements. One of the benefits of working with an experienced, professional sign company is the depth of knowledge that you get to draw from. Infinity Signs, NW has worked in virtually every municipality in the Boise area so we know, or know how to find out, what the rules and restrictions are for your area.
The majority of cities and towns will require a permit for your new sign. They all have their own set of ordinances governing everything from size and material type, to location and height. It's extremely important that you be knowledgeable on all of these items before you get your new sign ordered and installed to avoid potentially having to take down that beautiful new sign.
Virtually every step of the signage process – design, installation, sizing, re-facing, replacing – will require permit approval. This can get messy if you've never done it before, which is where Infinity Signs, NW can step in. You have important things to focus on for the growth of your business, spending time researching the local ordinances for your sign doesn't make the top 10.
Of course Infinity Signs, NW will do more than just handle the red tape. We've got years of experience designing effective, durable, and affordable signs. We can handle everything from repairing a damaged sign, completing preventative maintenance or energy efficient upgrades on an existing sign, or removal and replacement for new installations.
The research has shown that the majority of your customers live within a 5 mile radius of your business. This is great news! This means that if you design an eye-catching sign and inform the public about your company, they're likely to become customers. For many businesses the people are there and the product is there but the most difficult part can be connecting the two. This is where having well designed signage can be absolutely critical to the success of your business. Don't let another year go by without helping the community connect with your company. Contact Infinity Signs, NW to make the whole process from design, to permitting, to installation a breeze.