BUSINESS ADVICE FROM PAST PRESIDENTS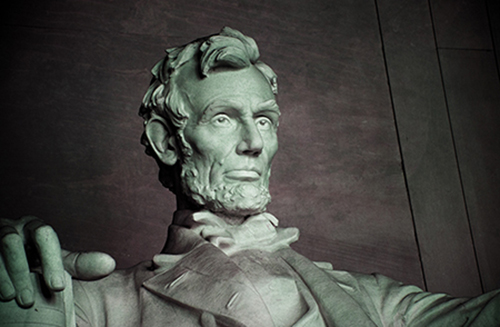 If you're a small business owner working too many hours and stretching every last dime to turn your dream into the American dream, take heart. It turns out several of our past U.S. Presidents owned small businesses as well and somehow found the time to also have a successful political career. While you might not be looking to jump in to the 2020 elections, there are some great lessons to be learned from looking at small business owners who have also run the country.
Abraham Lincoln – the 16th President can teach every business owner the value of getting back up after you get knocked down. He set-up a shop in Illinois but sadly learned the lesson of location, location, location. Unfortunately, he chose a location along a river that he expected to become a major trade route, when that didn't happen he got a liquor license hoping to save his business, but he still ended up forced to close his doors just a few months into the operation. Maybe if he had considered a vehicle wrap on the side of his wagon he could have done a better job spreading the word about his newly acquired ability to sell alcohol.
Andrew Johnson – this former President teaches the value of community involvement. He came from incredible poverty but went on to open his own, highly successful, tailor shop. Rather than just being a place where people came to drop off clothes for repair, he turned it into a place where people stayed. He hired men to read while he worked and offered free coffee to customers. This turned his business into a place for community gatherings rather than just well-tailored pants. Maybe a sidewalk sign this summer inviting hot patrons in for a free glass of lemonade is a way to increase community investment in your business.
Harry S. Truman – this story is one of unfortunate timing. Truman opened a very successful men's clothing store making high quality pieces for the well-dressed men in the city. After a few years of incredible growth, the early 1920's hit with the Depression and the reduction in spending by the average American. So while Truman was a good businessman with a solid product, events beyond his control forced the closure of his company. Small business owners have to fight hard to stay afloat amidst trade wars, terrorist attacks and market fluctuation but Truman also teaches us that even if we fail we can do it in a way that maintains our integrity and sets us up for success later on. It took him 15 years of faithfully making payments to eventually pay off his debts from the failed business but during that time he gained incredible respect from people throughout the community who ended up being the same people who later funded his campaign and helped get him elected to the Senate and ultimately the White House.
So as while we are thinking about our Presidents this month, there's much to be learned from the success and failures of former Presidents who were also small business owners. If your curious read about how George Washington turned his whisky still into the largest distillery in the country, or how Warren Harding bought a dying newspaper and completely turned it around into a stable business. There were others too such as Herbert Hoover and Jimmy Carter. Many successful Presidents started off learning life lessons through the same ups and downs that you're facing as a small business owner.
THE BUZZ AROUND POP-UP TENTS
Custom canopy tents are everywhere in the Spring and Summer months because they're the perfect marketing tool. They're the ideal way to increase brand recognition and identify your business to visitors. They also provide shelter from the elements – think hot sun beating down or rain falling – a pop-up tent keeps your employees feeling fresh and increases the amount of time customers spend at your booth.
The durability of the aluminum frame allows it to stand up to changing weather conditions as well as survive being packed up and hauled around from event to event for years to come.
Whether you're attending an outdoor festival, farmers market, or sporting event, having one of these easy-to-assemble pop-up tents is a must. Typically, these tents come in a 10' x 10' size with room on the surface for your company name or logo and then side and back walls that allow you to print more information about your offerings. All these surfaces can be created on fabric in the color of your choosing. Integrating your color scheme throughout the tent makes it easier for customers to find you and to remember where you are located. If your eyes are searching through the crowd for something to eat and you see a tent across the way with a pizza graphic, you're going to head that direction looking for food.
Recent studies have shown that customers are far more likely to remember a vendor who uses a branded tent over those with either no tent or a generic, unmarked tent. And 9 out of 10 business owners who are using a branded tent stated they saw an increase in the number of visitors at their booth after the addition of the tent. This same study found that when visitors were questioned about what vendors they remembered after attending an event, 55% remembered based on the colors of the branded tent while only 14% remembered because of the text. So, choosing a color to associate with your business is a critical piece of designing your pop-up tent.
It turns out there's a bit of psychology behind the success of branded tents. People unknowingly feel that the booth is a "market" which makes them want to step inside to see the product. If there's nothing that clearly defines the perimeter of the booth space most customers will subconsciously choose to stand further away to avoid feeling pressured to purchase. Drawing people into your space makes them more willing to engage with your staff, which has led to most tent owners stating that the increase in sales after the purchase of the tent allowed it to pay for itself in just 2 events.
Many businesses choose to use pop-up tents in conjunction with other marketing tools such as banners, feather flags, table covers and more. When combined, these items create an incredibly professional presentation of your company to the community. So if you've got outdoor events scheduled for this Spring and Summer don't wait, get your pop-up tent ordered now.
LARGE VS. SMALL FORMAT
You've heard someone refer to something as "large format" or "small format", but do you actually know the difference? If you don't, Infinity Signs NW is here to help. Knowing the difference can be helpful as you look to order marketing materials and signage for your business.
The size of the format refers to the width of the printed material. It turns out there are actually 3 different categories – small, large, and grand format. Small format applies to printing that is less than 18" wide, large format is for items that are 18"-100" wide, and grand format is anything over 100" wide. Sometimes the term "wide format" will be used by printers, but it's interchangeable for large format and is referencing the same 18-100" wide materials. Now that you know the size differences let's look at some examples of each.
Small format includes your standard sized sheet of paper. So typically, flyers, brochures, and other more standard marketing hand-outs are small format. These can be printed off your home computer, or ordered through a professional print shop. Other small format items include decals, stickers, and business cards. Most items that need to be printed hundreds, or thousands, at a time are small format.
Most businesses that are ordering large format items are looking for items such as banners, aluminum signs, vehicle decals, yard signs, A-frame signs, and flags. Much of the everyday signage you see is large format. Within retail stores you see large format signs hanging from the ceiling or hung in the windows. While vinyl banners can certainly come in extremely large sizes, the most common sizes are 4' x 2', 5' x 3' and 6' x 3'. These sizes are popular because they're large enough to be seen from a distance, but small enough to be easily hung and affordable. Both yard signs and A-frame signs are often 24" wide and either 18" or 36" high. The feather flags you see at outdoor events or on the side of the road are generally 2-2.5' wide and 8-9.5' high.
Grand format is reserved for extremely large signs or banners. These would be the things you see hung on the side of a building or pulled behind an airplane in the sky. They are the most expensive printing option and will sometimes require special printing equipment in order to be manufactured. Most businesses don't have regular need for signage in this size range.
Large format printing is a fantastic way to get your business noticed without breaking the budget. You can get a beautiful sign designed and printed quickly, and at a reasonable price by working with the team at Infinity Signs, NW. We utilize the latest in printing technology to give you amazing print quality and durable signage. Give us a call today to get started on you next large format printing job.